UK Hallmarking
Dealers Notice
Hallmarks are an essential form of consumer protection. They are there to give you the confidence and reassurance that you need before you buy a new piece of jewellery.
If a piece of jewellery was made after 1950, then it MUST be fully hallmarked in order for it to be sold in the UK.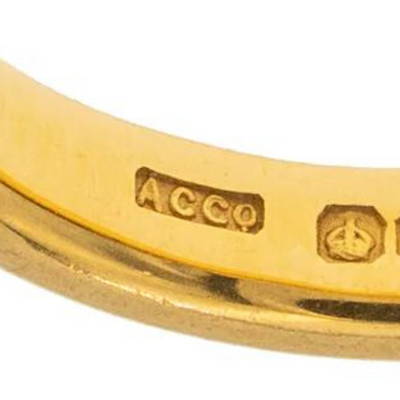 The maker's mark on this piece says ''ACCO' indicates that it was likely made by the Albion Craft Co.
1. The sponsor, or maker's mark, declares who was responsible for having the piece hallmarked, whether that's an individual, retailer, manufacturer, wholesaler or importer. To have a sponsor's mark of your own, you must be registered with one of the UK's four assay offices, Birmingham, Edinburgh, London and Sheffield.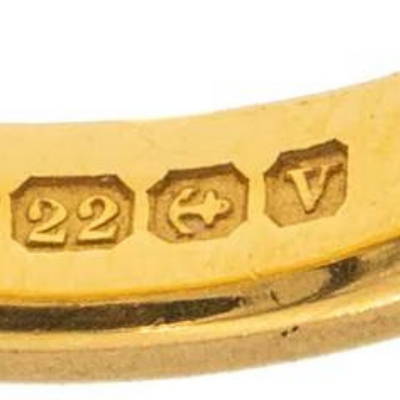 The anchor symbol means that this piece was assayed in Birmingham.
2. The assay mark shows where the hallmarks were given, with an anchor representing Birmingham, a castle for Edinburgh, a leopard's head for London and a rose for Sheffield. The Dublin assay mark is the figure of Hibernia, a seated woman with a harp and the personification of Ireland.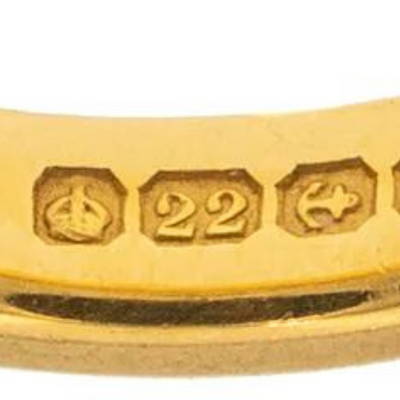 This piece is made from 22ct Gold, as shown by the '22' mark.
3. The fineness mark denotes the purity of the metal. This is measured in parts per thousand in relation to the UK standard. Confused? Take 9ct Gold – the fineness mark is 375, as the purity of 9ct Gold is 37.5 percent. In other words 37.5% of the metal is pure Gold, and the rest of the is made up of other metals that are alloyed in (for example Silver or copper).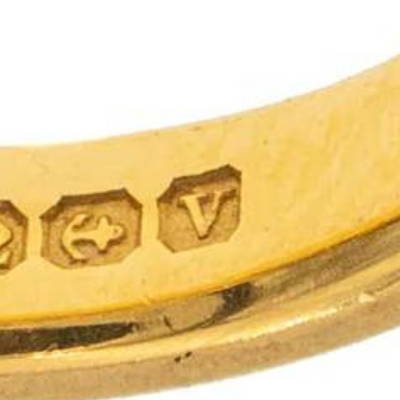 The date letter 'V' here is for the year 1945.
4. The last mark deemed essential by the 1973 Act was a date letter, but since 1998, these are no longer compulsory. Different fonts separate hundreds of years worth of history, making the age of the piece traceable to the exact year it was crafted. 
What about antique jewellery?
Here at Lillicoco, the vast majority of our collection predates the 1950's, so most pieces that you see on our website are exempt from these hallmarking rules.
Antique items may certainly have hallmarks as they have existed for hundreds of years, but you don't need to worry if you don't see them.
Lillicoco are committed to only selling genuine antique and vintage jewellery, and any piece that we decide to add to our collection that was made post-1950 will always be declared as such, and it will bear full hallmarks as seen on this page.